Customer Testimonials
Don't just take our word for it, see for yourself!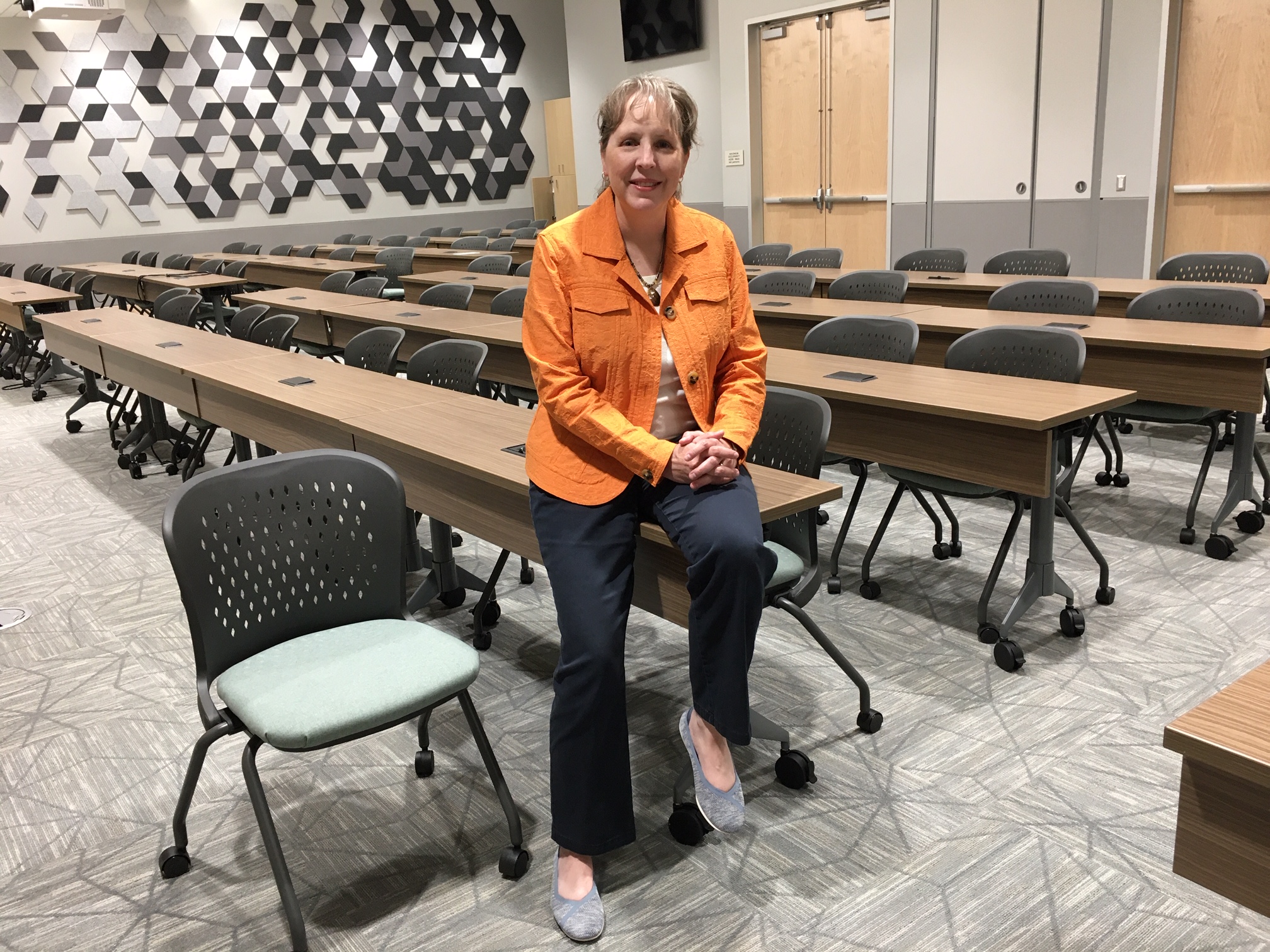 Correction Enterprises provided excellent support as we furnished our new flagship facility. They allowed us to bring our designer to their showroom to select fabrics and finishes, and provided numerous selections/swatches for her to work with. They really went the extra mile to ensure that the furniture they provided would match seamlessly with the overall aesthetic. NCDA&CS was pleased to support Correction Enterprises and provide inmates the opportunity to develop valuable skills to enhance their future success. I also used Correction Enterprises for exterior parking lot signs. I appreciated their quick turnaround and ability to customize signs. The quoting and ordering process was quick and easy. I would not hesitate to utilize Correction Enterprises in the future for similar needs.
Brenda Jackson
Complex Manager, Steve Troxler Agricultural Sciences Center
North Carolina Department of Agriculture and Consumer Services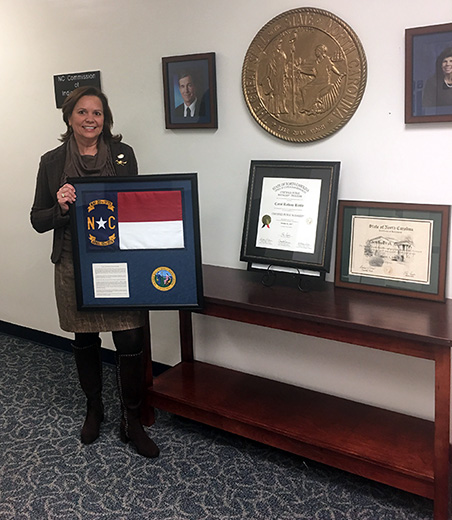 Correction Enterprises produces amazing products for the State of North Carolina programs that I manage. Instead of using an outside vendor for our Service Awards Program, we brought the entire program "in-house" and the operations are efficiently managed through Correction Enterprises. The majority of our employee service awards are produced and made by our skilled staff of inmates. All the funds stay within the state, and at the same time our inmates are learning and using valuable skills that will positively impact their re-entry success when they return to society.
I also use Correction Enterprises for all of the framing needs for the Office of State Human Resources Recognition and Rewards Statewide Programs. The frame shop can handle the most complicated and creative framing needs, in record time and at an incredible price. I have been so pleased with their framing service. Our recipients treasure their beautiful keepsake recognition awards. I love that Correction Enterprises will frame my personal items as well. They do a very professional job. I Just can't say enough about their customer service and willingness to tackle even the toughest job requests!
Carol Battle
State Wellness, Recognition and Awards Manager
North Carolina Office of State Human Resources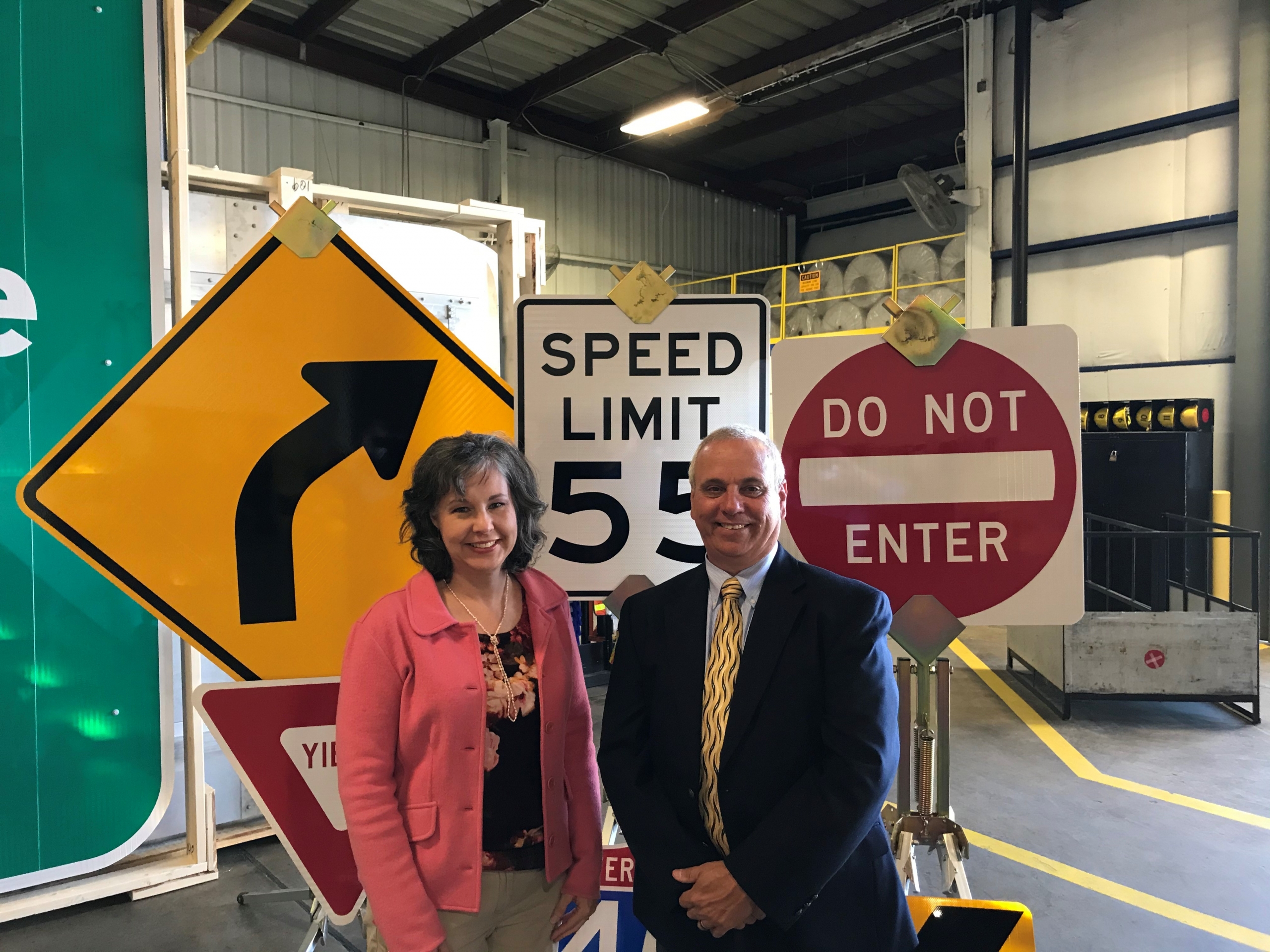 The North Carolina Department of Transportation and Correction Enterprises has forged a lasting relationship throughout the years based on collaboration and the desire to produce and receive exceptional signing products. This type of relationship has allowed us to coordinate and receive critical signs prior to hurricanes, flooding events, and work through unprecedented obstacles such as budget, material disruptions and a pandemic. We depend on their quality signing products to guide and inform the highway users in North Carolina and look forward to our continued partnership.
Renee Roach
State Signing and Delineation Engineer
North Carolina Department of Transportation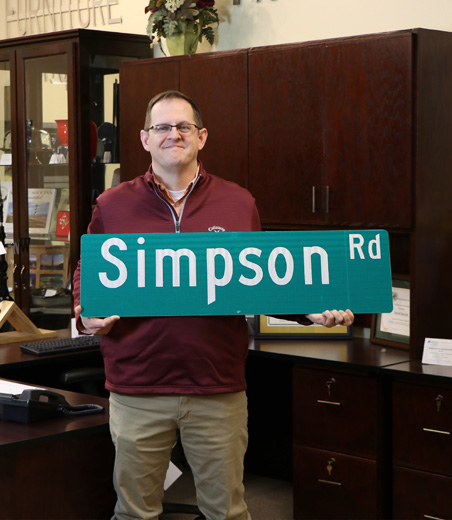 Wake County ABC - Bryan Hicks
"I am a big supporter of Correction Enterprises after 20 plus years of municipal service. I tried to save time and money with third party vendors. Their products were substandard and never lasted. Items like street signs got bent easier. Letters lost reflectivity quicker. The products from Correction Enterprise however always stood the test of time and elements. When ordering, customer service was always helpful and professional. Guidance on [MUTCD] standards was provided which always put us in the right direction to look professional and top notch. I encourage all government agencies to take advantage of the Correction Enterprises services. You will be surprised but not disappointed."
Bryan Hicks
Assistant General Manager
Wake County ABC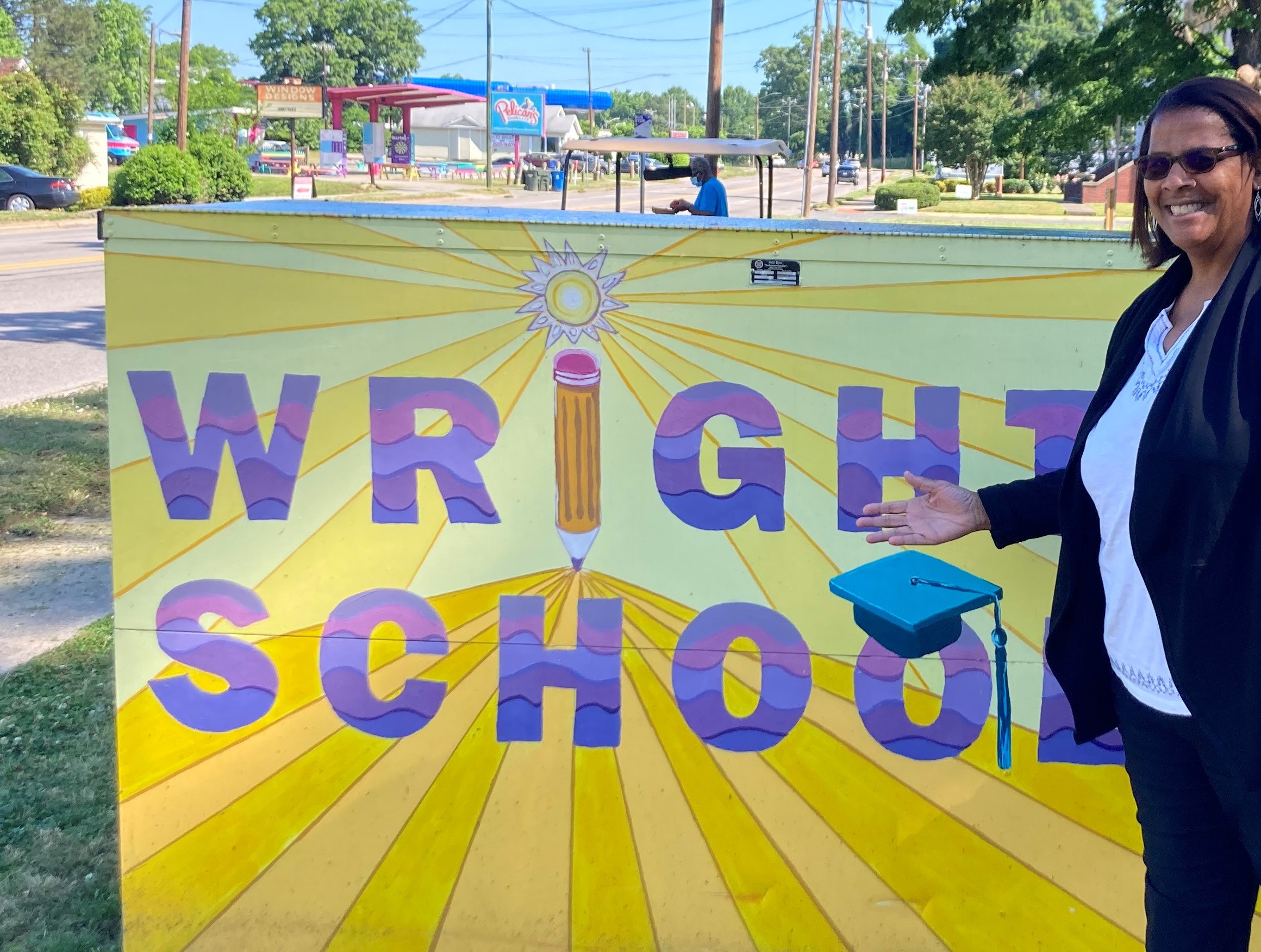 Dept. of Health and Human Services/Wright School - Lori Lumpkin
"I called Correction Enterprises today looking for information that I could not find on the website about firepits. We want to purchase one for use in our residential mental health center for children. Our students will be so excited for campfires, hot dogs and s'mores!
Ms. Esther Person was so very friendly, helpful and went out of her way to get me detailed information about the products that I was researching. She needed to gather more information and told me that she wanted to make sure that she shared the most up-to-date prices and product descriptions with me. She called me back within ten minutes, providing me with complete and thorough product details that I needed to share with our treatment teams. She even went so far as to send me photos of the two items. I was just so blown away by how she exceeded my expectations.
I want to applaud Ms. Person for giving exceptional service that left me, the customer, feeling valued, important and respected. Her service today made Correction Enterprises stand out as a leader in customer service in my eyes."
Lori Lumpkin
Chief Operating Officer
Wright School, Durham NC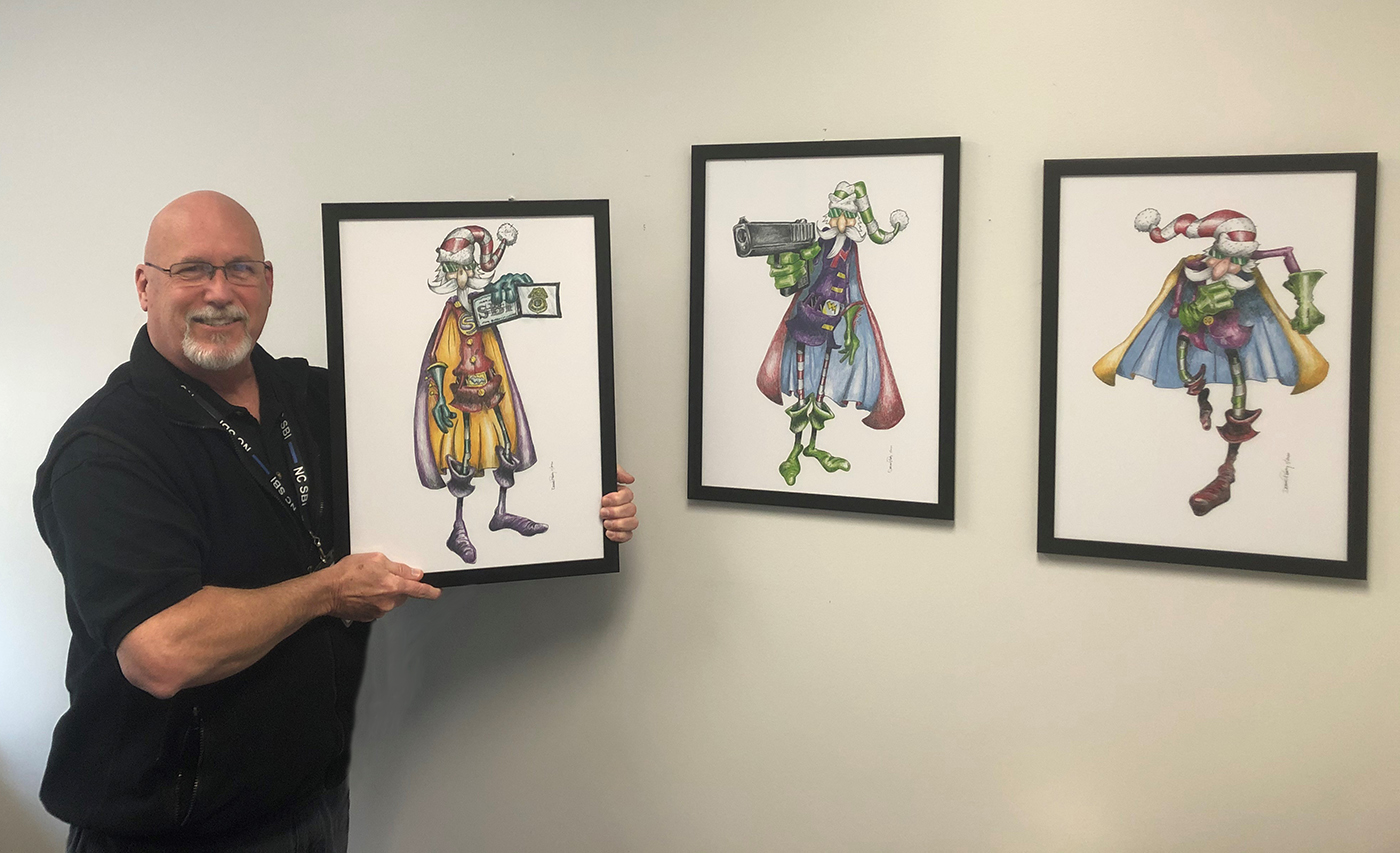 State Bureau of Investigation – Dennis Perry
When Dennis Perry needs his freehand cartoon illustrations framed and matted, he chooses the Correction Enterprises Framing and Matting team at the North Carolina Correctional Institution for Women in Raleigh to do the work.
Dennis has been illustrating professionally for more than 35 years. He believes that people are good at what they are passionate about because they spend their time refining their craft, whether its woodworking, metalsmithing, or drawing.
"As much as I love computer design, I love freehand illustration much better," he says. "I occasionally sell some commission pieces, but I give away much more than I sell. My joy is to see others happy and if they want one of my cartoon pieces that makes them smile, I'll just give it away".
"In many cases the framing makes the illustration," Dennis says. "The Correction Enterprises group does a great job and provides a vital service to the citizens of my home state and I appreciate it."
Dennis Perry
Graphic Designer, Training Section
State Bureau of Investigation
Staff was very professional and knowledgeable. The finished product was just awesome.
Melvin L Williams Jr
NCDPS
Response time is fast, questions are answered quickly, staff is friendly and helpful
Felicisa Jones
NCDAC/Prisons
Correction Enterprises is ALWAYS customer service friendly and go the extra mile in assisting you in every way possible.
I have been working with Correction Enterprises for years and they always give superb customer service, whether it's via email or on the phone. They are very attentive and quick to respond.
Tara White
DHHS/DPH/CDIS/CCCPH Branch
Excellent Customer Service
Always excellent customer service. Always demonstrate the best professionalism, outstanding work/products. Very helpful and responsive.
Ava Crawford
DPH/Cancer Branch
Why Choose Correction Enterprises?
Because 12,832 Customers Believe We're the Smart Choice and the Right Choice
At Correction Enterprises, our purpose-driven mission is like no other: To Create a Safer North Carolina through the Changing of Lives. How can you help? By partnering with us on the products and services you are already buying.
Why? Because it's the Smart Choice and the Right Choice.