Correction Enterprises invites you to visit and shop our large product showroom and customer service center at 2020 Yonkers Road in Raleigh.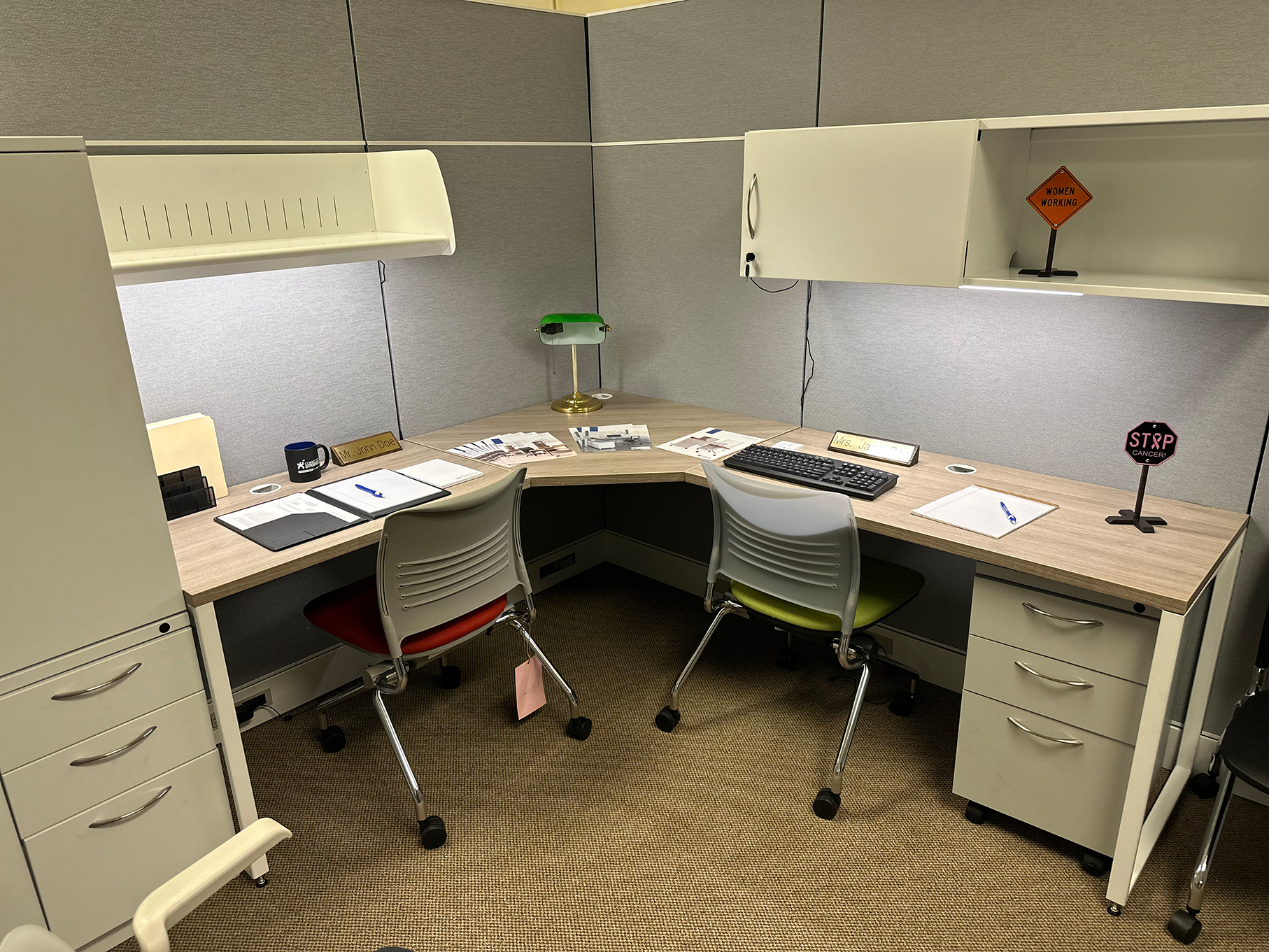 The showroom is open Monday-Friday from 7:30AM - 4:00PM. Open only to N.C. state or local government employees and retirees; N.C. National Guard members and retirees; or 501(c)3 non-profit purchasers.
Park near the Door 4 entrance and ring the doorbell to enter. Browse our large selection of low-priced products or buy something for personal use (as a government employee, retiree or National Guard member), just drop in during business hours.
If you need to consult with one of our customer service agents to discuss a printing, matting and framing job or a custom product purchase for your agency, you are encouraged to make an appointment by calling 800-241-0124.
New accounts can be set up using our online account form,
or by phone or on your first visit.
One-of-a-Kind Products. Unmatched Expertise.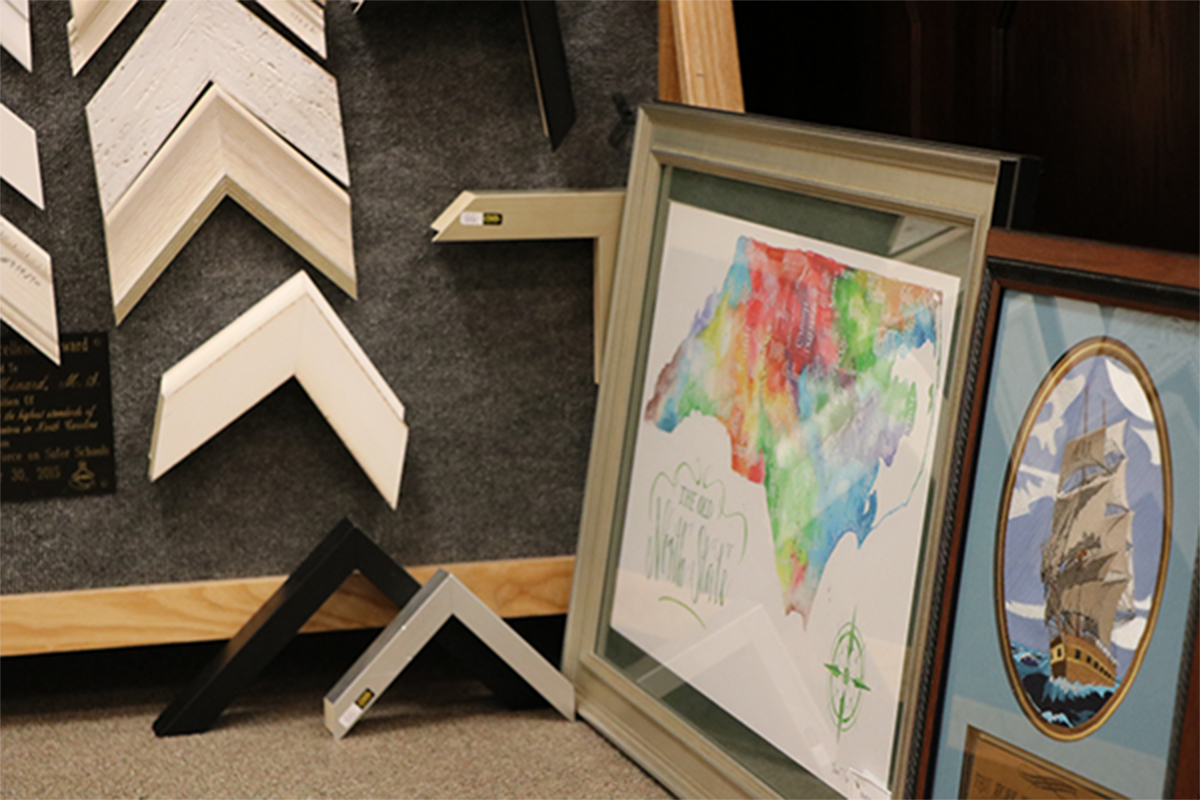 Matting & Framing
Bring your artwork or items and work with our consultants to select from our large assortment of frames and mattes. Save 30% - 50% off market prices. Produced by our expert team at the North Carolina Correctional Institution for Women in Raleigh.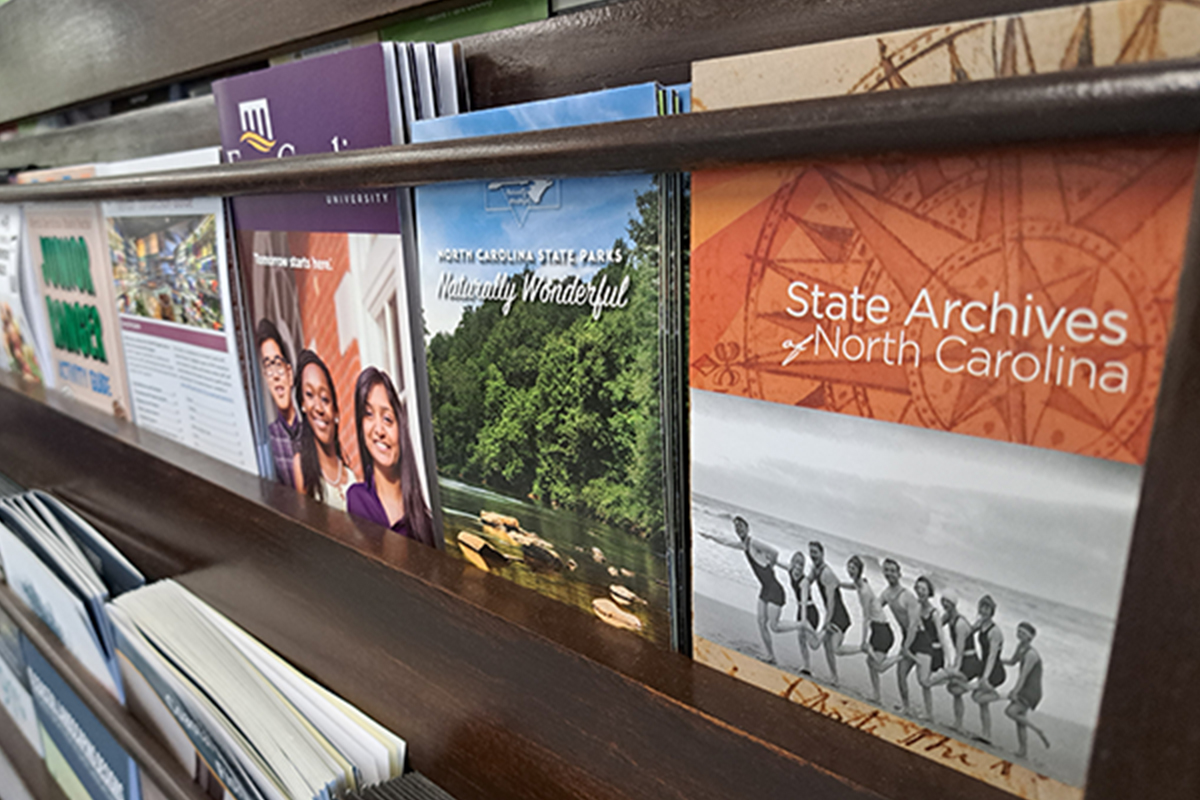 Print Services
Whether you are a state employee with a small job or an agency or university needing 10,000 magazines printed, you can meet with one of our printing experts to get a quote and start the order process. Our team at Nash Correctional Institution provides award-winning quality at competitive prices.
Pick Your Chair. Make Your Back and Bottom Happy.
When you walk into our 1,400 sq. ft. showroom, the first thing you'll think is, "Wow, they have a lot of office chairs!" True. One for every purpose, budget, bottom and back. Produced here in North Carolina by our upholstery craftsmen at Alexander Correctional Institution in the heart of our world-renowned furniture region near Hickory. From rugged 24/7 heavy-duty prison use to conference rooms, schools and offices, we have a chair for you.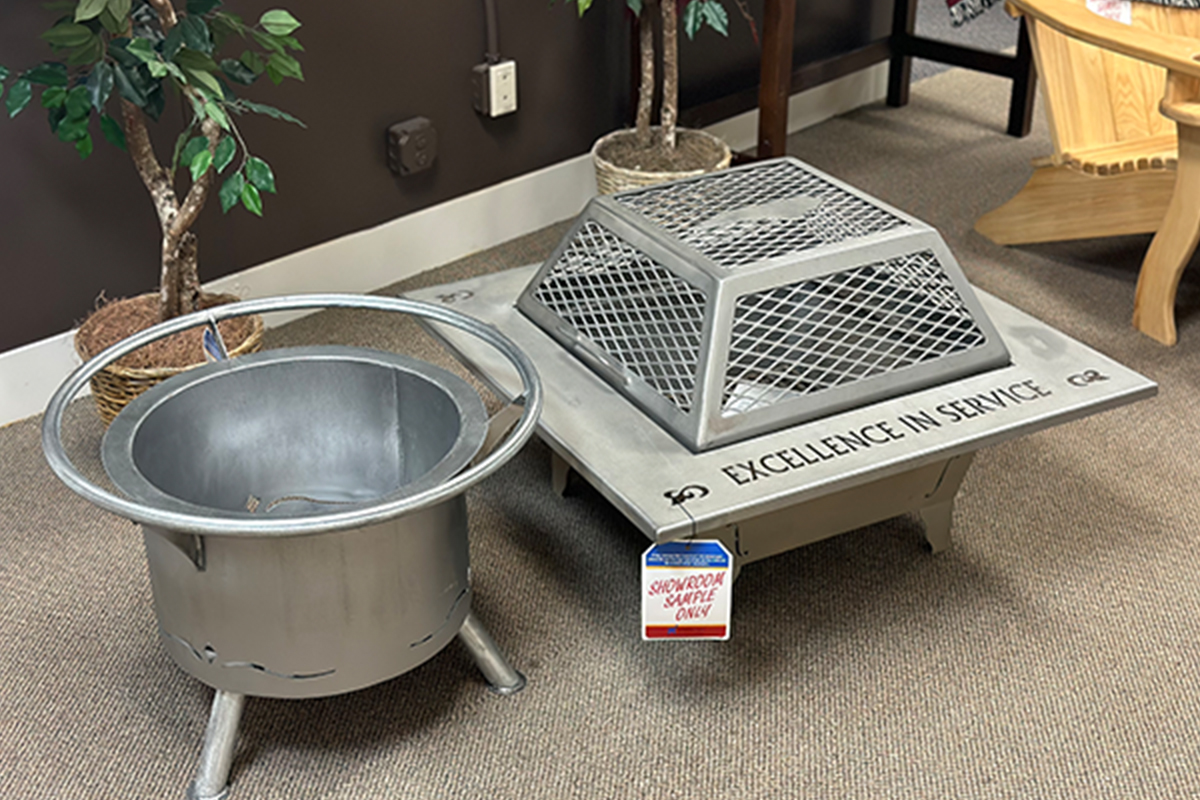 Warmer Winters Predicted
Don't let cold weather drive you indoors any longer when you cozy up to one of our heavy-gauge metal fire pits. Sold in round or square styles with custom-cut lettering or graphics. Made by our metalworking plant team at Anson Correctional Institution.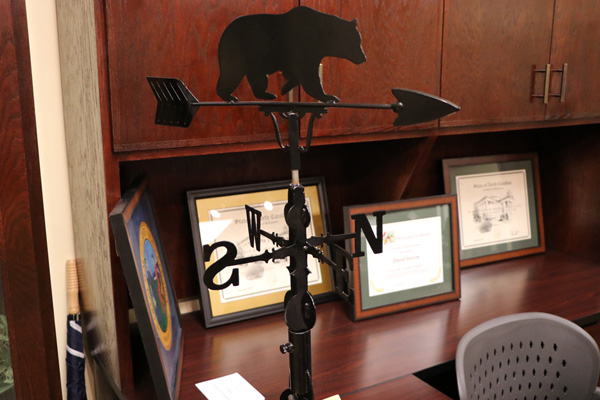 Know Where the Wind Blows
Design your own personalized working weathervane topped with a graphic that represents your hobby or special interest (boating, hunting, sport, pets, etc.). Made by our metalworking plant team at Anson Correctional Institution.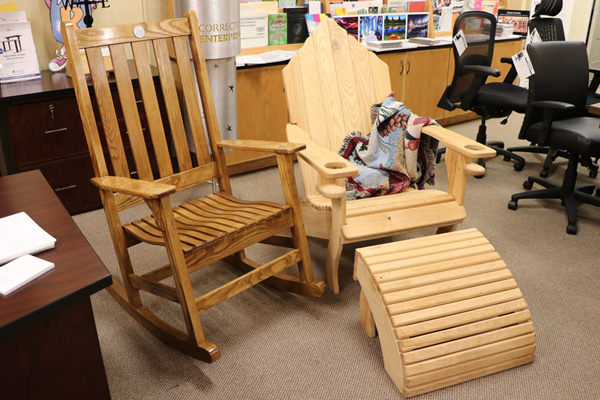 For Those Lazy Summer Days
Whether you are a rocker or a sitter, we have a durable, solid wood porch, deck, patio or yard chair for you. Try each one in our showroom, make your choice, and plan for that first nap under your favorite shade tree. Made by our skilled craftsmen at our Alexander woodworking plant in Taylorsville.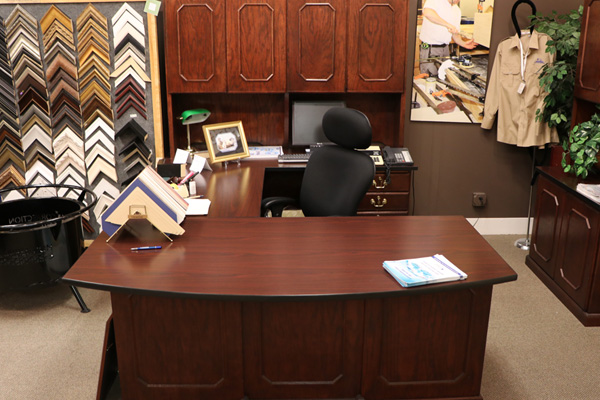 North Carolina Made…to Make the Right Impression
We once tried to sell cheap furniture made in Asia until our customers told us to stop. We returned to our durable and stylish solid-wood office furniture line made by experts who used to make high-end furniture near Hickory. Don't go for the cheap stuff. Ours costs a little more, but it will last years longer than most Asian-made products and it will make a better impression. Produced by our staff and highly skilled offenders at our Alexander woodworking plant in Taylorsville.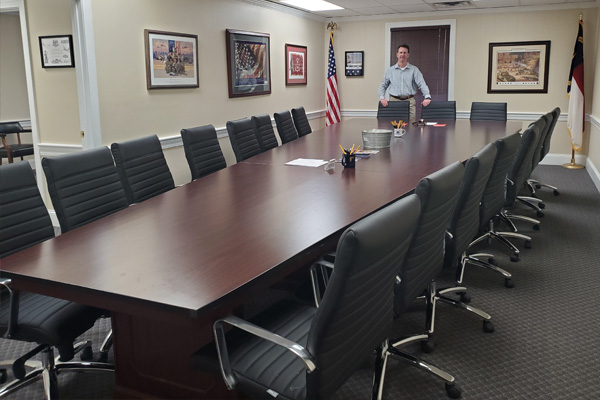 All Shapes and Sizes
We've made thousands of conference tables through the years…most in standard geometric shapes, some not. Like the one we made recently for the NC National Guard Association, a large trapezoid-shaped table for its main conference room in Raleigh. But whether you want a 42-inch round table for your office or a 5X15-foot table for your boardroom, we can make any table in virtually any shape you want. Just another "day in the office" for our woodworking plant crew.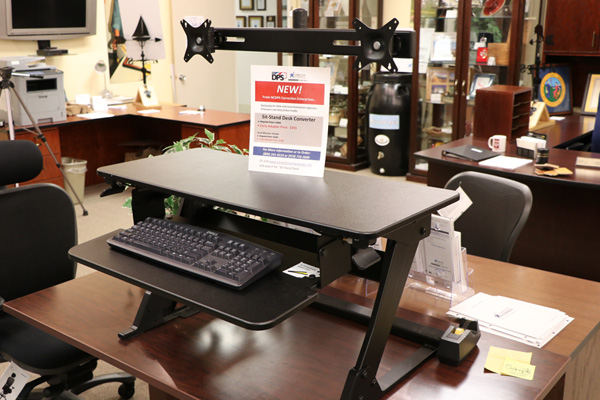 Sit-Stand, Sit-Stand…All Day at Your Command
Did you know that using a sit-stand desk or desk converter device promotes better blood circulation and productivity and prevents hip tightness that contributes to lower back pain? Come and "test-drive" our motorized and manual sit-stand products and pick the device that's best for your body and budget. You'll soon be on your way to better health and well-being.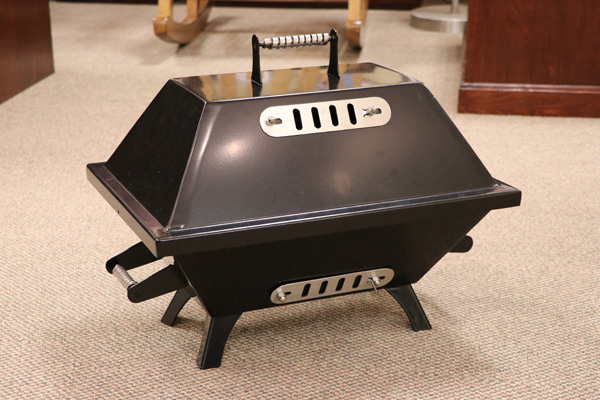 Burgers, Anyone?
Durable, heavy-duty tabletop "Hibachi" style grill produced at our Anson metalworking plant. Perfect for tailgating, patio or camping. 34 lbs. Dimensions 20X14X14 in.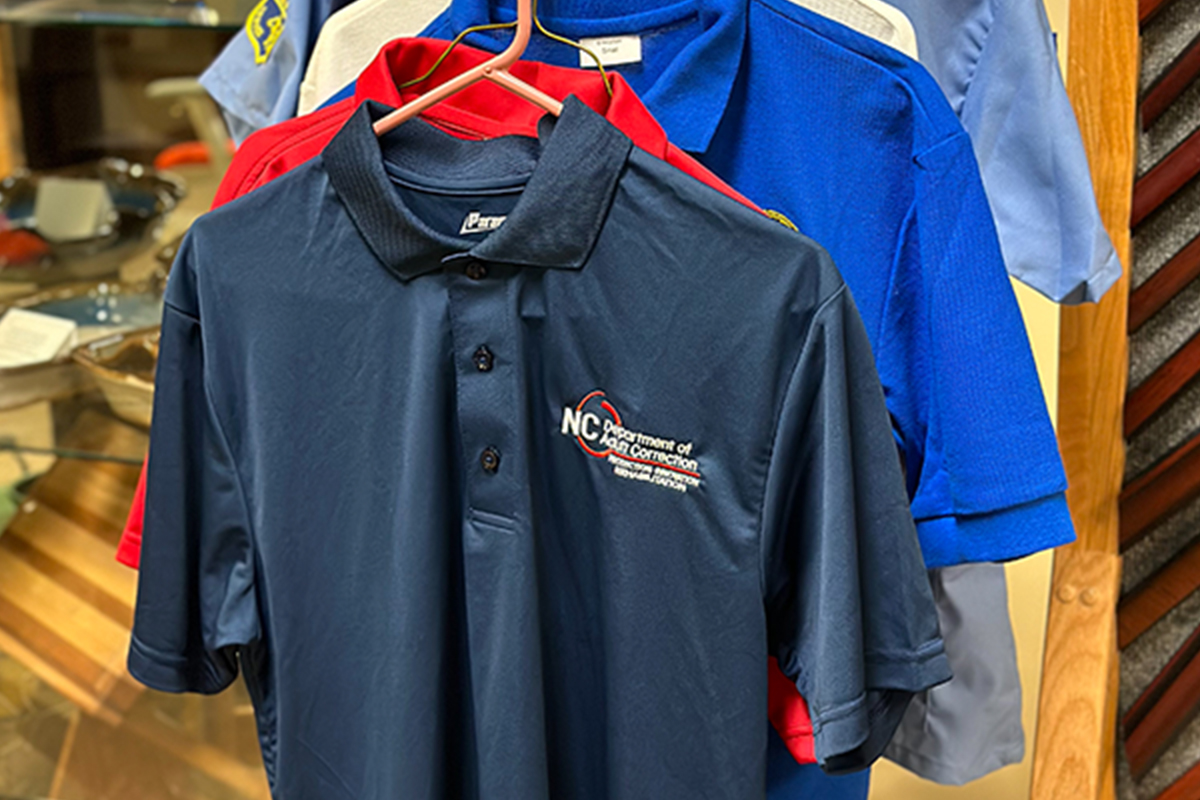 North Carolina Proud
Show your pride for our state, your agency or the Department of Adult Correction with a state-seal or DAC logo cap, shirt or carry bag. Smartly styled and quality-made by our sewing teams. Talk with one of our experts about special-order apparel with your agency's or school's embroidered or heat-transfer logo or name.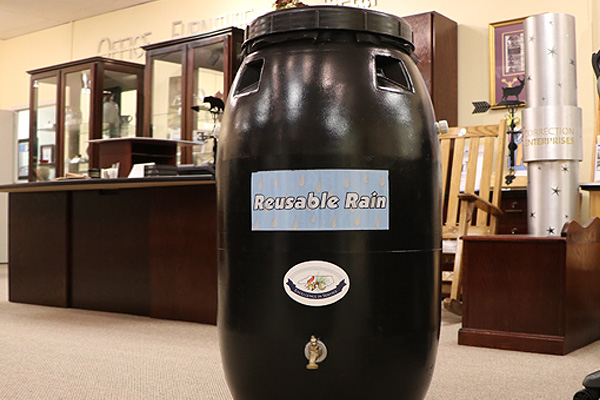 Rain, Rain, Don't Go Away
Save money and harvest rainwater for your garden, grass or flowers with one of our large (4 ft. high) rain barrels from our recycling plant in Carthage. Route a downspout into the barrel and attach a hose to dispense water. Designed to easily link multiple barrels together for maximum storage capacity.
Directions
Contact information
Toll Free: (800) 241-0124
Local: (919) 716-3600
Fax: (919) 324-6234
Address
Correction Enterprises
2020 Yonkers Road
Raleigh, NC 27604
Schedule a Tour
Book a showroom tour, or you can speak with one of our Print or Matting & Framing specialists.